Need a caring place for your loved one who is soon to be discharged from hospital? Perhaps he or she has had a hip or joint replacement or a stroke? Look no further than Fairview Rehab & Nursing Home in Queens, NY.
Here at Fairview we have a beautiful setting and kind, friendly and professional staff to speed your recovery. Our amenities and services are second to none and once here, you are welcome to use them.
We will make the admissions process stress-free, simple and easy, and ensure your stay with us is comfortable and relaxing.
Our goal is to smooth your transition from hospital, or even from your own home. We provide guidance to family members and advice on insurance.
All our rehabilitation, 24/7 nursing care, and outpatient services are conveniently located in one place. We provide full support with bathing, dressing, and eating.
Our customized care takes into account each person's physical, spiritual and emotional needs. Access to religious services can also be provided on request.
Our social worker will talk to you and your loved one once you are settled in. We discuss all the details of your stay, listen to you to note your preferences, and answer your questions.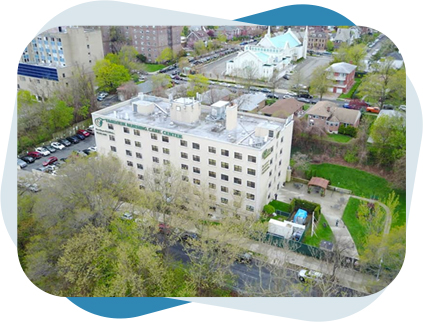 Assessment
Most of our patients at Fairview Rehabilitation & Nursing Home come to us from hospital. Some come from other institutions, or their own home. They come to us for our exceptional nursing care, rehab or outpatient rehab services.
However, families with an elderly, infirm relative cannot simply check their loved one into a skilled nursing facility. Prior to a patient's admission, we make an assessment of whether that patient can benefit from the services we provide. We need to determine if the level of care a person needs is commensurate with what we can provide.
Admission from hospital
For all prospective patients or clients we obtain medical documentation from the institution where they are being looked after. This will detail their medical history, their social circumstances and the medical insurance cover they have. After a thorough review, we determine whether we can accommodate a new person. We promptly inform the patient and/or their family of the outcome.
If the person matches our eligibility criteria, a transfer from hospital can be done the same day. Their insurance policies will then cover their stay and therapies.
Admission from home
If the patient is at home and would like to join our facility, we need to do an assessment. This is called a "personal review instrument" (PIR). It's done at the patient's home.
Financial services
At Fairview we have years of experience in smoothing the health insurance process for patients and family members alike. We do our best to ensure everyone involved understands the process and can feel confident about the decisions they make. We accept most insurance policies, including Medicaid, Medicare, commercial insurance policies and private funds.
Open door
Fairview Rehabilitation and Nursing Home allows family members to visit their loved ones at any time of day or night. Our admissions policy means we do not discriminate in terms of age, sex, color or social background. You will be guaranteed a warm welcome and looked after by our highly skilled, doctors, nurses and therapists. You will be treated as one of the family. Welcome!
Come and talk to us if you have any queries, or would like a tour of our facilities.
Get in touch with our admissions department