Nursing Home
Queens, NY based Fairview nursing home offers patients the best possible nursing care all day, every day. Our nursing home is staffed by well-trained and highly professional nurses. This allows us to provide excellent daily care to people with cognitive, physical disabilities and chronic illnesses.
Fairview Rehab & Nursing Home in Queens, NY, is renowned for its highly experienced nursing staff. All our staff are equipped to assist with common ailments such as hip fractures and knee replacements. They are well trained to provide ongoing wound care and IV therapy, along with correctly administering medication plans and play a key role in the many other services we offer.
Round-the-clock nursing care
Our Registered Nurses and Licensed Nursing Practitioners provide round-the-clock care to the patients of our nursing home. They all have solid acute care and clinical care skills and are BCL and/or ACLS certified.
Languages
We cater for clients from diverse language backgrounds. To better serve our patients and residents, we have interpreters. In addition, we have several bilingual nurses. We find that our clients love having a chat in their native tongue. Among our nursing home staff are speakers of
 Russian
 Hebrew
 Chinese
 Nepalese
 Haitian
 Spanish
 Polish
 Burmese
 German
Our nursing staff know basic words such as "pain", "water", "bathroom" and much more in all these languages and others. Also all of our new patients get a communication chart. This shows pictures and words in their native language alongside an English translation.
Individualized care
Based on the specific needs of our residents, we design an individualized care plan. We understand that care plans need to be as diverse as the people we look after. There is no universal standard that perfectly encompasses each person's needs and Fairview nursing home recognizes this.
Individualized care programs maximize results and give each resident what he or she needs in terms of nursing care. The nurses work closely with social workers, doctors, and the rehabilitation team. The latter consists of occupational, physical, and speech therapists.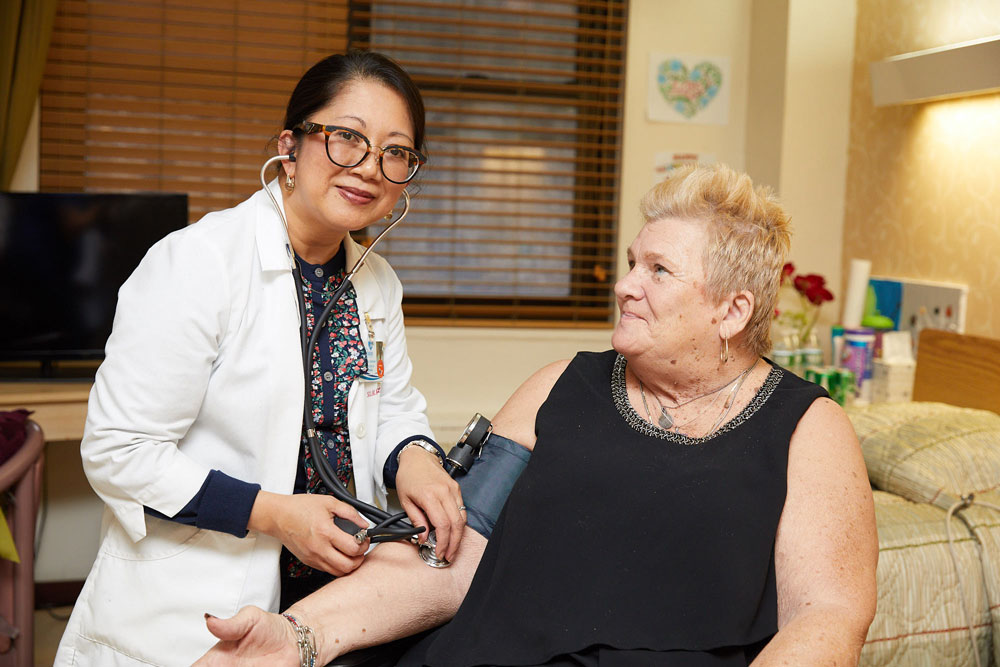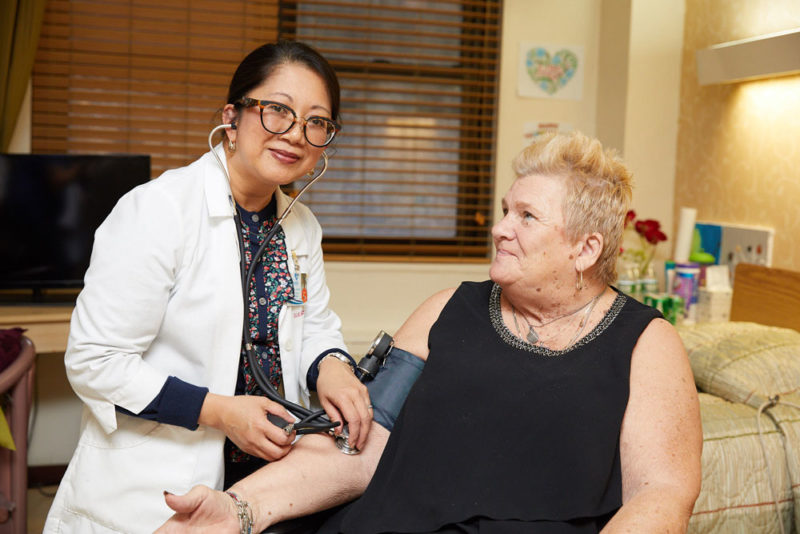 Together, the whole team carefully evaluates the condition of each patient to design the best care plan possible. So the aim of all ongoing care is to ensure that patients can maintain their independence. In addition, we aim to return them to their prior level of health, happiness, and vitality.
Speedy recovery is our goal – Fairview Nursing Home
Our nurses pride themselves on their ability to manage any medical condition rapidly and get the patient home.
Our skilled nursing facility staff bring hope, perseverance, creativity and dedication to their work. They provide therapy to those who have had, or currently have, a wide range of illnesses and conditions.
Medical conditions treated at our nursing home
We treat and manage a wide range of disabilities, illnesses, and injuries. These include diabetes mellitus, COPD (chronic obstructive pulmonary disease), hypertension, dementia, Alzheimer's, Parkinson's disease, acute chronic renal failure, and much more. We also provide nursing care to patients with any type of debilitating disease.
Cancer is another disease that many of our nursing home's patients are fighting. We provide care for people with any type of cancer, whether the disease is at stage 1 or stage 4.
Most common ailments
The most common conditions we see here are diabetes, hypertension, acute COPD, renal failure, and acute respiratory failure. We certainly have a lot of experience in treating all of these. We also have patients with IV and PICC lines in place.
As a skilled nursing home, Fairview is one of the few facilities that accepts total parenteral nutrition (TPN) patients. Because these patients cannot take food and/or liquids in the normal manner, we provide nourishment intravenously.
This treatment is sometimes provided to patients who have had a bowel resection. This means they can't put anything in their bowel so they have to take their food through the cardiovascular system.
Among our most common complaints are patients with knee replacements, hip replacements, and amputations. We deal with patients who come in with large wounds that need to be vacuumed. Thanks to our Wound Vac system and highly skilled nurses, we can also treat those patients here.
We provide wound care as a standard part of our nursing care plan. All too often, wound management is not prioritized in nursing homes. But in Fairview wound care is a key part of what we do.
We are equipped to treat patients who have had colostomies and ileostomies. We also treat patients who have come to us after surgery and have a PleurX. This is a tube in their lung which needs to be drained.
At our nursing home we treat patients who are post-Coronary Artery By-Pass Graft (CABG). After a hospital has completed the surgery, we provide crucial ongoing support.
The skills of our nursing staff
We carefully monitor the competence and performance of everyone, including aides. This allows us to know that they can take care of the type of patients we admit. We do checks on Fingersticks and ensure our staff know how to change a colostomy bag. Also we constantly check how they start an IV and how competent they are in cleaning a PICC line, etc.
Such checks, feedback and training help hone our staff's skills so that they keep improving.
During the day we are staffed with five aides on each floor and two nurses. There are registered nurses (RNs) on the third and fifth floors. In the evenings there are two RNs on duty and at night there is one RN on duty.
The rest of the nursing staff are LPNs (licensed practical nurses) who work under RNs. Although they are licensed as nurses, they have to be supervised by an RN. They are the ones who give the medication, do treatments and talk to the family members.
Our patients
At Fairview nursing home, we don't only serve the elderly population. We are here for everybody, with the exception of babies and infants. So, it should be noted that we have many younger people here, including patients in their 20s, 30s, and 40s. Such patients may have had problems managing their diabetes at home. Or they might have ended up in the hospital because of high blood sugar readings.
Many people have had an amputation and come to us for dressing changes, physical therapy or other rehabilitation therapies.
We also have an in-house palliative team in our nursing home. Their skills and knowledge of pain and chronic disease management provide valuable support across our whole facility.
Skilled nursing facility care
Skilled nursing home care involves the provision of treatments and nursing care that only a licensed nurse can provide. Starting an IV, doing the dressings, giving medication, hanging the G-tubes (gastrostomy tubes) for those that are fed via a tube, and much more are a part of what they do.
Registered nurses handle education work and are in charge of keeping communication channels open between families and patients. Any teaching or passing on of knowledge should always be done by a registered nurse. After all, they know the pathophysiology of the disease process and the treatment options. They are, therefore, more able to explain things to a patient or a family member.
We also have brilliant LPNs. They can describe the medication they are giving and know the side-effects. They're also great communicators who have time for a chat or a cup of tea with patients. We encourage a family atmosphere and our staff's communication skills are a key aspect of this.
A team approach is key in a nursing home
We have an excellent team. Nursing staff make sure patients get their medications, are showered, and are on time for their physical therapy sessions. PT takes care of them, they come back up, and the dietary team makes sure they get their food. The Social Services person talks to them about whatever psychosocial challenges they may have.
Nursing staff help with bedtime routines and attend to any other care needs.  It's all about patient-centered care and not about nursing alone. The entire nursing home team is involved in ensuring overall patient well-being. We work together as a team to get the patient home.
If you're unsure if we can meet your or your loved one's needs, please get in touch with us. The chances are that we have the skills and knowledge to assist.
That's the highest practical thing we can do. After all, if we don't work together as a nursing home team, the patient is not going to improve quickly enough. The inter-professional team here is amazing. And speedy recovery is our goal.
Pharmacological and non-pharmacological methods in nursing care and homeopathic therapies
If a patient gets agitated we don't just immediately provide medication. We look at their medical record and assess their needs. If there's a way of helping them without using medication we will do just that.
Therefore, we often call the family to ask what the patient really likes, what they enjoy doing. In this way we can calm the patient without using medication.
Simple care interventions in our nursing home may include, for example, help in the bathroom. In some situations a warm compress may be beneficial. To reduce external stimulation we might take them to their room, dim the lights, or turn off the TV.
We talk to them, we sing with them, we do whatever we can to avoid just giving them medication. With older people we do reminiscing therapy. In addition, we give them warm drinks, or we massage their shoulders if they allow us to touch them. All of this is part of our skilled nursing care.
In our nursing home, staff are aware of the benefits of homeopathic remedies and therapies in some circumstances. Homeopathic therapies focus on treating the individual as a whole person, and getting the body to treat itself.
Homeopathic medications are highly diluted substances often designed to have the required psychological affect to help the body recover. Our staff get to know the preferences of patients: perhaps a certain snack or a herbal tea might be appropriate.
However, when patients are in pain, that's a different matter. We would call the doctor for pain issues, as pain is a vital sign and we don't want our patients to be in pain. For patients with dementia who are combative, we may test to see if they have a UTI (urinary tract infection).
Communication with dementia patients who have serious behavioral problems
At this nursing home, staff know how to communicate with patients who have a cognitive issue in a simple way. Our nurses and other staff use simple terms and gestures to communicate our actions to the patients before we do anything. We have cards with pictures we can point at. Patients have a communication book they can use to point to their needs. We offer calming, yet social activities such as painting and chair yoga. Aromatherapy is another useful tool which our seriously sick patients love and respond to well.
If patients get confused or start to wander, our staff are there to support them and keep them safe. We check to see if patients are doing OK at least every 30 minutes, or more often if necessary. Moreover, each patient has a carefully tailored, individualized plan to help them improve and recover.
One of our major goals is to decrease our rehospitalization rate. To do this, we ensure that residents get the highest standard of care and friendly attention. We help prevent falls, keep them safe, help them get better and also feel better in themselves. This makes it less likely that they will return to hospital.
At our nursing home, staff do everything they can to keep patients happy. Furthermore, our advanced nursing care protocols provide the best guidance on what we need to do in specific circumstances.
Safe handling
All new employees of our nursing home get training on safe handling of the patient and safe use of equipment. We carry out annual training sessions to underscore the importance of safe handling and keep staff apprised of new developments.
This helps staff notice when equipment might not be working properly. Malfunctioning equipment poses a risk to patients.
Safe handling is incredibly important in our nursing care. One can't just grab hold of an elderly patient  who may have fragile skin. Anything that touches their skin is liable to cause a skin tear or some kind of ecchymosis or erythema. Our staff are trained to handle people with care and compassion at all times.
When we need to transfer a patient to a new bed, for example, we use a minimum of two staff members. At times, we use a Hoyer lift for transfers, which also requires two people.
Come and visit us at Fairview Rehab and Nursing Home in Queens, NY, to experience the high quality of our nursing home care.
Saneisha Mainor
23:34 11 Nov 19
Very clean nursing home with very nice employees.