Dementia Care
The dementia care team at Fairview Rehab & Nursing Home in Queens, NY, provides comprehensive evaluation and treatment care. If your loved one is diagnosed with dementia they will need care, support, and a plan of action.
Our therapists can help by enhancing the way they communicate with dementia sufferers.  Maintaining eye contact and speaking slowly in simple sentences can ease communication. Listening, being positive, and patiently reassuring patients is an important part of dementia care.
We provide superior quality nursing care, which is an essential part of our dementia care program.
Our rehabilitation program for people with neurological diseases such as dementia helps people make step-by-step progress. The aim is to improve a patient's physical and emotional well-being in a caring and loving environment.
A personal touch in dementia care
Within a few days of admission, we sit down with the patient and family members to discuss their needs. Our social services team does everything they can to make the newcomer feel at home. We discuss the whole dementia care process and put you at ease.
Dementia care depends on a patient's specific condition and medical history. We tailor therapies to the specific needs of the individual and like to work closely with family members.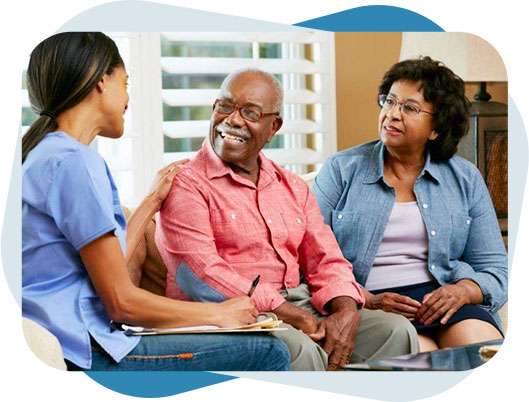 Therapies
Some behavior problems associated with dementia can benefit from non-drug approaches.
Physical therapy, for instance, can improve strength, cardiovascular health, and the flow of blood/oxygen to the brain. Exercise, combined with a healthy diet, can slow the onset of severe dementia, and help with sleeping at night. Dementia sufferers often have trouble coping at night. Our caregivers can help by establishing calming going-to-bed rituals.
Occupational therapists can help design routines which help reduce confusion in people with dementia.
After our patients are discharged, we talk to a family member of the dementia sufferer to make their home safer. We can teach people to prevent accidents, such as falls. In addition, we recommend monitoring systems that can alert you if the person with dementia wanders.
Other therapies can also be beneficial. Exposure to soothing music or fragrant smells (aromatherapy), stroking or playing with pets, massage, basketry or embroidery are some examples. The smiles, care and support that accompany such therapies are also very important.
Communicating with Dementia Patients
Communicating with dementia patients can be a challenge. Our mission at Fairview is to provide all our clients with the love and care they deserve. Many of them come to us following a traumatic brain injury, or with progressive dementia. In order to provide the best possible care, we need to communicate with all our clients. Over the years, we have developed a range of successful communication methods.
People with Alzheimer's or related dementia diseases usually have difficulty remembering things. They get confused and cannot think clearly. This makes it difficult to take care of themselves. That's why they need care, but care in a loving and friendly environment, such as that provided at Fairview.
Our staff are very experienced at communicating with dementia patients. They tailor their approach to each individual client, taking into account the extent of their disability.
Dementia is often associated with mood swings and sometimes even aggressive behavior. Our care-givers are trained to be particularly sensitive, and yet also persistent at times – all in the patient's best interests.
At Fairview, we have lots of experience in dementia care and relevant therapies, such as the above. To learn more about our services, do not hesitate to contact us!