Recreation Therapy
Our recreation therapy program at New York's Fairview Rehab and Nursing Home is very creative.
Giving our patients this outlet is a great way for them to grow in confidence and happiness.
This program is an integral part of providing holistic rehabilitation.
Recreation Therapy As A Form of Community
We have baking classes, community trips, holiday parties, and shared meals. Beside this, we hold candle-lit dinners. Our residents make the decorations for these themselves. These events include hired entertainment and meals that the residents have specially requested.
We also have annual fashion shows, where all our patients dress up and have their hair and nails done. It's a day on our calendar both staff and patients love to participate in. These activities are an excellent way to improve a patient's social interaction skills.
They help to foster a sense of community at Fairview. We take great pride in the unity and support each resident feels during their stay.
Music Program
We have different types of music for each culture represented in our home. In addition, we arrange various genre of music – jazz, classical music and others. We also host performances to give patients opportunities to showcase what they've learned.
Religious Rehabilitation Services
To cater to our resident's emotional wellness, we provide religious support. Regardless of their background, our patients can expect their religion to be represented. We have bible classes, prayers, communion, and Jewish services every Friday and Saturday.
Watch the Video
This is a story of Director of Psychotherapy and communications at Fairview Rehab & Nursing home based in Queens, NY.
Aroma Therapy
Our therapists are aware of the vital stress points located on our hands. With careful physical manipulation of the same, we help release muscle tension and improve mobility in our patients' hands. We've recently added aromatherapy to the hand massage, which is a great help for those with chronic pain.
Rehab Community Trips
We offer regular community trips for our residents. These include bus trips to neighborhoods during holiday festivities and city light trips.
Beautician Rehabilitation
Our regular beautician comes every Friday and is available to residents upon request.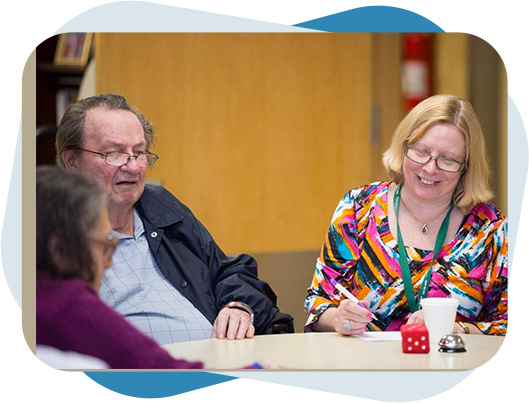 Medical Rehab
We work with our medical staff to keep nurses informed about resident's conditions. There may be a need for something that arose during therapy to be brought to a nurse's attention. If so, we notice how a patient feels and let their nurses know. This attention to every detail is imperative to achieving overall wellness.
Pet Recreation Therapy
We have regular entertainers visit with dogs as a treat for our residents.
Our patients always love to interact with the dogs and are benefited by this.