Parkinson's Care
You and/or your loved ones can rely on us for compassionate nursing care at our Home in Queens, NY. Our aim is to keep you active and healthy, and able to cope with Parkinson's disease. You will be treated as one of the family and given all the Parkinson's care, medication, and therapies you need.
Our multilingual nurses and aides are concerned with your health and happiness. They will do everything they can to provide the best service and make your stay as pleasant as possible.
After careful diagnosis your doctor will design a Parkinson's care plan tailored to your needs. This is then discussed and explained in detail to help put you at ease. Naturally, we take into account any preferences you may have. Our Outpatient Department caters for patients who require treatment in their own homes.
We are proud of the excellent therapies we provide. These include physical, occupational and speech therapies. Each therapy is carefully monitored and supervised by our specialists. We explain everything carefully and help you make steady progress in all areas.
We love to engage your family and friends wherever possible. After all, they too can provide all kinds of mental and physical support and comfort.
We are also sensitive to patients' religious needs and can arrange various kinds of religious services and visits.
We have excellent equipment and facilities, as well as delicious and nutritious food here at Queens. Our Home is fortunate to have a lovely patio. Sitting out on the patio can be highly beneficial.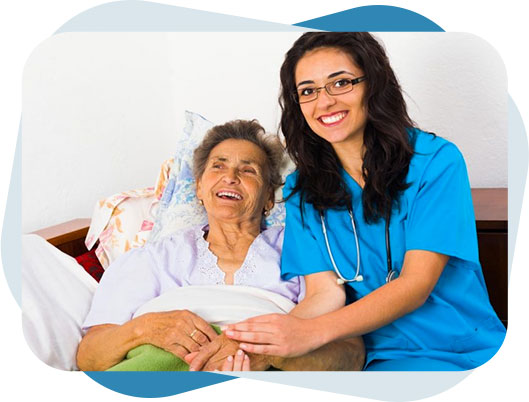 Parkinson's – the disease
Parkinson's care is support and treatment for Parkinson's disease, a neurological condition affecting the brain. There's no cure for the disease, but care and treatments can help relieve symptoms and maintain your quality of life.
Parkinson's disease gets progressively worse, but how quickly this happens varies a lot from person to person. Those with the disease lack dopamine, a chemical that helps control muscles. Dopamine transmits messages between the brain and nerves that control movement.
Symptoms
The main symptoms of Parkinson's disease are movement and balance difficulties, including shaking (tremor), stiffness, slowness, and changes in how you walk.
In addition to the main symptoms, people with Parkinson's may have a range of other symptoms. Our health professionals can treat these separately as part of our Parkinson's care program.
The symptoms associated with Parkinson's include anxiety, depression, insomnia, swallowing difficulties, drooling, incontinence and dementia.
These may be treated by medication, or through a combination of medication and supportive therapies.
Supportive therapies include physical therapy, occupational therapy, cognitive therapy, speech therapy as well as diet care.
Parkinson's Care – Physical therapy
Physical therapy can be an important part of any Parkinson's care program. A physical therapist helps you move more easily and become more flexible through a series of exercises. Such movements can help relieve muscle stiffness and joint pain and improve your walking ability. This can give you a better quality of life and make you more independent.
Occupational therapy
An occupational therapist can help with everyday living by giving the patient practical tips. For example, they can reduce your risk of a fall by removing trip hazards in your home. Our therapists also give advice on the use of walking aids, stair-lifts, or wheelchairs. In short, they help you minimize risks and stay mobile and independent.
Speech therapy
Parkinson's care often includes providing help to sufferers with speaking and swallowing difficulties.  Our speech therapy is a well-developed practice and can help people with communication as well as swallowing. Speech pathologist will evaluate your swallowing function and make recommendations on changes if necessary. Our therapists do this mainly through getting patients to do vocal and throat exercises.
Diet advice
For some people with Parkinson's disease, changing what you eat and when you eat it may help alleviate certain symptoms. For instance, eating plenty of fibers and drinking enough water can help with constipation. For people with low blood pressure, eating more salt with smaller, more frequent, meals can help combat dizziness.
Recreation therapy
Music, games, and art and crafts can do wonders for Parkinson's patients. Just as occupational or speech therapies help with mobility and communication, so recreation activities help enormously with depression and anxiety. Playing games, and enjoying music, play a great role in improving their condition. Our recreation therapists offer a wide range of activities for these patients. Candlelit dinners, concerts, pet therapy, and regular bus trips to community neighborhoods during holidays are only some of them.
If your loved one has Parkinson's disease, Fairview's highly skilled staff can help with rehabilitation and care services. We provide 24-hour nursing care, medication monitoring, and rehabilitation services, including numerous recreational activities that help greatly with Parkinson's disease. Don't hesitate to contact us for further information.