Outpatient Speech Therapy
Those suffering from conditions affecting speech, language, and swallowing can benefit from outpatient speech therapy. At Fairview Rehab & Nursing Home in Queens NY, we believe in providing the best treatment possible so patients can overcome any speech problems. By improving the ability to communicate, we can help people regain their independence and improve their quality of life.
Who needs outpatient speech therapy?
There are many people who are unable to communicate effectively. Whatever the problem, outpatient speech therapy could be the solution. Loss of hearing, cancer, dementia, Parkinson's, and other age-related or neurological diseases can all lead to speech related issues. These can include problems with stuttering, literacy, pronunciation, vocalization, and cognitive abilities.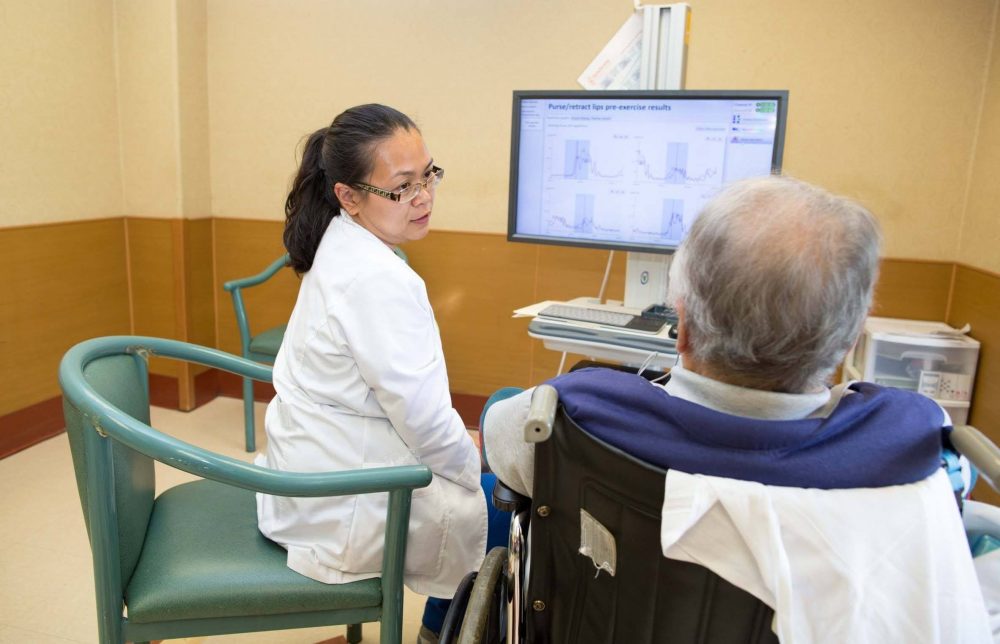 Aphasia, usually as the result of a stroke or traumatic brain injury, can leave patients unable to understand or process language. Weaknesses in the throat or tongue can cause dysarthria where your speech pattern is slow or slurred.
How can outpatient speech therapy help?
By attending outpatient speech therapy sessions five times a week, patients will soon see an improvement in their ability to communicate. Therapists will assess your condition and impediment, and come up with a customize treatment plan.
Speech fluency
Issues with stuttering, pronunciation, and vocalization can affect the fluency of your speech pattern. Therapists concentrate on breathing techniques, slowing your speech rate, and voice production. Speech fluency improves on your ability to articulate with others. It also helps you build confidence as your ability to communicate improves.
Cognitive communication
Outpatient speech therapy can help patients suffering from cognitive communication disorders. Language, memory, attention, processing, problem solving, and reasoning can all be worked on. Patients are encouraged to take part in activities designed to improve attention span, perception, logic, and memory functions.
Swallowing disorders
A lack of strength in the oral muscles can cause problems with swallowing. It's not only an issue when you speak. Swallowing disorders also increase the risk of inhaling liquids or choking on food while eating. Through exercises aimed at strengthening the muscles of the throat, tongue, and jaw, you reduce this risk significantly.
Outpatient speech therapy at Fairview Rehab & Nursing Home
At Fairview, we understand how important it is for you to learn how to communicate again. Our skilled therapists and healthcare professionals work together to come up with a tailor-made rehabilitation plan.
During one-on-one sessions, you will focus on improving your speech fluency. Through fun activities, you can increase memory and attention span whilst gaining a better understanding of reasoning and problem-solving. If you have difficulty swallowing, strengthening the oral muscles will have you back eating your favorite foods as quickly as possible!
Many patients have already benefited from Fairview's gentle, motivational approach to outpatient speech therapy. We dedicate ourselves to improving peoples' communication skills and regaining their independence.