Wound Care in Queens, NY
Wound care team at Fairview Rehab & Nursing Home in Forest Hills, NY, offers comprehensive evaluation and treatment care.
We professionally manage any level of wound care. Members of our whole team are involved in the process of wound healing.
We collaborate closely with each other to achieve the best care possible.
Serious Wounds Treated Effectively
Some patients arrive with very serious wounds. Wounds treated include pressure ulcers, diabetic foot ulcers, burns, puncture wounds, lacerations and many others.
Our dedicated wound care teams provide a complete care plan. They consider all factors contributing to and affecting the wound and the patient.
Pain is a critical aspect of local wound assessment: It can be a clinical indicator of infection. Our effective treatment regime includes careful infection control and monitoring, as well as pain alleviation.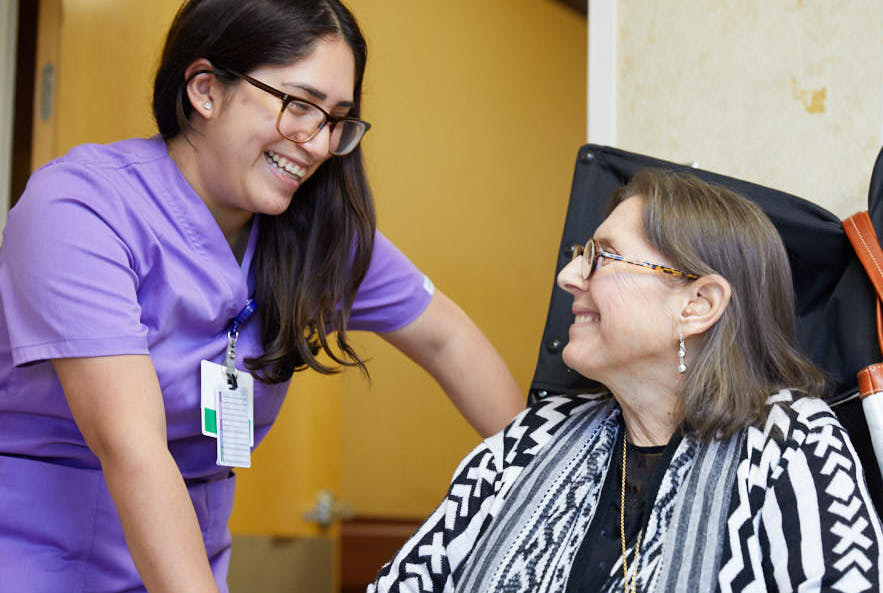 Wound Care Specialists
Our professional team of wound care specialists closely monitors patients to check on any pain they may be feeling. After consultation with patients, they give appropriate medication to ease pain. All medications are documented. This ensures doctors know what to do in the event of an adverse reaction.
Assessment and Monitoring
Comprehensive assessment of a patient with a wound includes systemic, psychosocial, and local factors. We also create an individualized treatment plan for each patient. And our well-trained acute-care team ensures on-going wound assessment.
Education
Our team educates patients, families and caregivers on the wound-healing process.
Dedicated, well-trained personnel from multiple disciplines work together to ensure the best possible patient care and outcomes. Fairview aims for the fastest possible healing times.
Superior Care
Our quality wound care program includes a full complement of treatment options, high-caliber staff and consistently excellent outcomes.
Effective, rapid and caring treatment is what Fairview Rehab & Nursing Home in Queens, NY, aims for. It's great to see patients' wounds healing up, and the smiles on the faces of discharged patients.
Frequently Asked Questions
What can I expect at my first appointment?
The first thing you can expect at Fairview Rehab & Nursing Home is a warm welcome from our admissions team. They will help arrange an appointment for a consultation and a thorough examination.
Our highly skilled wound care specialists are very experienced at assessing and treating any wounds you may have. Our evaluation will not just be of the wound itself but of your overall health condition and social circumstances. We take into account your mental and physical health as this will affect treatment options.
Whatever happens, you can be sure to have a personalized treatment plan. Our diligent and friendly staff will explain everything to you and your loved ones. A therapist will carefully monitor your wound care program right through the healing process.
Fairview has huge experience in evaluating and treating wounds especially among the elderly. Some patients come to us from other hospitals where their wounds did not heal properly. We've managed to heal people with serious long-lasting wounds.
What kind of wound care treatment will I receive?
Everything depends on your health condition and medical history, and the type of wound you have. Pain can be an indicator of an infection and we ask you if you are feeling pain, and if so where. We take appropriate pain relief measures tailored to your needs.
Chronic wounds are long-lasting wounds that require special treatment and care. For these and other wounds it is important that we keep the wound clean and free from infection. We also try to ensure adequate blood flow to the wound as this speeds up healing.
Your treatment plan will include regular assessments by our therapists and doctors. We change your treatment where necessary to improve the healing process.
We also educate you and give you advice on how to protect the wound and prevent it from being knocked.
How long will my wound take to heal?
Again, this depends on the type of wound you have and your overall state of health. If you are elderly and in poor health, wounds tend to take longer to heal. Our aim is for your wound to heal as quickly as possible and to ensure you are not in pain. Our therapists monitor the wound closely and ensure it is clean, removing dead tissue when necessary.
Regular and frequent wound care is essential. Our therapists will remove any unhealthy tissue and use advanced dressings over the wound-affected area. Compression wraps or hyperbaric oxygen therapy may be appropriate. By using tools like these we aim to get the healing time right down.
What are the most common reasons a wound doesn't heal?
Ulcers or other wounds associated with diabetes or vascular disease can be tricky to cure. Patients with underlying illnesses like cancer tend to have slower wound-healing processes. We ensure that elderly patients with limited mobility get the attention they deserve to avoid bed sores.
Poor circulation in elderly people is another reason why sores and wounds may take a long time to heal.
What treatment options are available?
Wound care is basically about removing infection and allowing the body to do the rest. But we can help the body to fight infection by ensuring an adequate diet, or by stopping smoking. If the patient has an underlying medical condition we manage that condition to try and improve overall health.
Debridement is the removal of dead or unhealthy tissue and is part of the wound cleansing process.
Where a wound is being exacerbated by pressure, we take steps to relieve that pressure. For instance, for foot ulcers it is essential that patients have the right footware.
We also work to control swellings and ensure the best possible flow of blood to the wound.
Where the wound is complex, more specialized treatments might be required, for example, bio-engineered tissue grafts or hyperbaric oxygen treatments.
How do I prevent chronic wounds?
Chronic wounds are ones that do not heal in the normal way, and may be long-lasting. They tend to be more difficult to cure than ordinary wounds.
Prevention and education are key elements of the work we do at Fairview Rehab & Nursing Home. It's much better to prevent a wound from occurring than to treat it.
For instance, our dedicated staff ensure that bedridden patients do not develop pressure ulcers by turning them regularly.
Equipment is also important. We have an array of mattresses and cushions specially designed to help relieve such pressure sores. Where appropriate, our therapists also supervise exercises to promote better circulation and speed up the healing process.
Contact us for the best in wound care and other treatments. Our facility in Queens, New York provides the best in rehab and nursing care. You must see Fairview Rehab & Nursing Home to understand why it is a place where people bring their loved ones for wound care and other treatments.