Memory Care
Memory care is an important component of our work at Fairview Rehab and Nursing Home in Queens NY. Many of our patients are elderly and suffer from varying degrees of memory loss or dementia.
Our professionally trained and friendly staff help patients retain and improve their cognitive skills. They do this in a caring and safe environment where your loved one is treated as one of the family.
Memory care involves stimulating patients' cognitive skills in a relaxed and stress-free environment. At Fairview we do this through a range of structured activities, including therapeutic recreation activities aimed at memory restoration.
Who needs memory care?
We recognize that many elderly dementia sufferers need specialist care. People with memory loss or dementia tend to be elderly and need 24-hour care. A common illness among this group is Alzheimer's disease. However, we also deal with patients who may have other diseases or conditions which impair memory function.
All people with dementia and other neurological diseases can benefit from memory care. People with memory loss or dementia are often frightened and disorientated. What they need is familiar and friendly faces and routines to create a stress-free living environment. They need nursing care to ensure their physical health. They also need friendly staff to keep their spirits up and boost their emotional health. We provide all this at Fairview.
Evaluation needed
Before we accept patients, we do a thorough medical examination to assess their mobility and memory. We try to ensure that they will be able to fit in and adapt to our routines and activities.
Our professionally trained staff evaluate and monitor patients. This allows us to design and adjust tailor-made rehab programs to suit their individual needs. Our aim is to retain and nurture the ability of the patient to lead an independent life, wherever possible.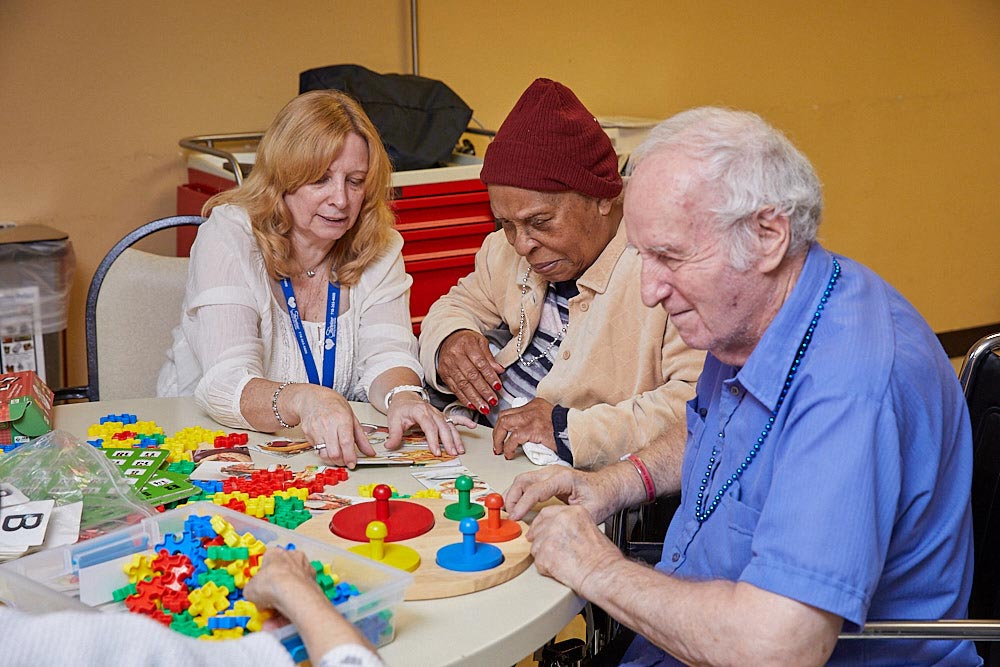 Safety first
You can't have effective memory care without first ensuring a safe operating and living environment. Our primary concern is the patient's well-being and that means they must be safe. People with dementia sometimes forget where they are and may wander off. This can lead to them getting into dangerous situations unless adequate safety measures are in place.
We educate our patients to be safe. We supervise them at meal times and make sure they can use the bathroom safely. We remove trip hazards as far as possible. Round-the-clock monitoring and care ensure patients stay safe.
Our attentive and expert staff are always on the look-out for sudden behavioral changes in their charges. They take the necessary remedial action and change rehabilitation routines as required.
Social skills and behaviors
One of the best ways of retaining memory function is social interaction. Friendly conversations between staff and patients using simple words and phrases is part of memory care. Our staff are trained to be patient and always ready to repeat things slowly and carefully. They try to reassure patients and help them understand what is happening or what they need to do.
Patients are encouraged to interact with other residents in our home. Conversation and recalling the good old days is a great way to retain communication and cognitive skills. We organize social events to help with this. We try to enable our seniors to feel a sense of purpose, satisfaction and enjoyment every day.
Among the activities we offer are memory games and physical therapy. If these can take place in a light-hearted, fun group setting so much the better. We try to encourage patient participation in all activities, including recreational activities. A healthy and varied diet is also an important element of overall patient well-being. It can help fight off the effects of Alzheimer's and dementia.
Fairview Rehab and Nursing Home
Our Nursing Home in Queens, New York, has lots of experience assisting people with memory loss. We have dedicated teams providing skilled care and rehab 24/7 to adults and seniors in the region.
Feel free to contact us to find out more about how your loved one can benefit from our quality memory care services.