Outpatient Occupational Therapy
Helping people regain their independence and live as full a life as possible is our number one priority at Fairview Rehab & Nursing Home in Queens, NY. Our outpatient occupational therapy services can be the key to providing patients with the ability to improve their quality of life. By helping to learn and re-learn how to carry out everyday tasks, our adults and seniors become an active member of their community.
Who needs outpatient occupational therapy?
Outpatient occupational therapy can help anyone who has difficulty carrying out daily tasks that most people take for granted.
Neurological diseases such as Parkinson's and multiple sclerosis mean the body can't function as it would normally. A traumatic brain injury or stroke can cause temporary paralysis meaning everyday activities become harder. Dementia and Alzheimer's affect the memory so routine tasks are forgotten. Orthopedic conditions like arthritis or fractures can affect movement and mobility.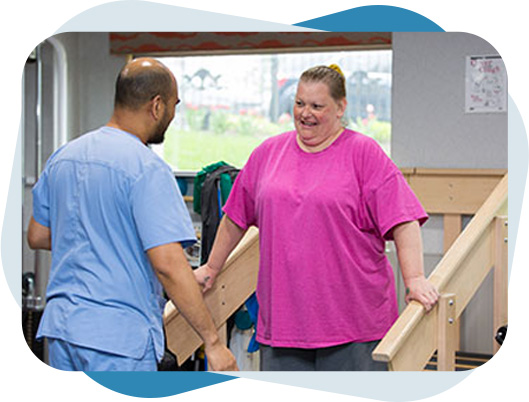 How can outpatient occupational therapy help?
By focusing on physical and cognitive aspects of everyday life, outpatient occupational therapy helps patients function in their usual environments. Through various methods, patients learn new ways to perform everyday tasks and activities.
Self-care skills
Outpatient occupational therapy focuses on learning and re-learning self-care skills. Because of injury or illness, it may not be possible to do things like bathing and dressing as you used to do.
Instead, therapists work on finding the best methods for you carry out these simple grooming tasks. You will learn how to overcome cognitive impairments to perform household chores such as cooking and cleaning.
Injury prevention
A lack of strength or awareness of things around you can lead to falls which can cause further injury. By focusing on balance and coordination, you can become more stable and prevent injuries from happening.
From getting out of the bath to climbing stairs, outpatient occupational therapy helps you do simple things as safely as possible.
Improve motor skills
When you have a diminished range of mobility, independent living becomes hard. From holding a pen to turning a door knob, you rely on motor skills to function normally. Through practice and repetition, therapists focus on re-building strength, improving dexterity, and regaining motor skills.
Helping with memory
Outpatient occupational therapy is a key part of helping patients with memory issues. Through repetition and the introduction of lists into everyday life, dementia patients can begin to put a routine in place.
Outpatient occupational therapy at Fairview Rehab & Nursing Home
At Fairview, we understand that every patient is different and so are their needs. Our highly-skilled team of therapists and healthcare professionals work together to formulate a rehabilitation plan tailored to you. They work one-on-one to restore your motor skills and coordination, teaching you new ways to complete everyday tasks.
Our approach to outpatient occupational therapy is motivational, gentle, and fun. With daily sessions, you'll improve swiftly and relearn your previous abilities. As you regain your independence, your self-confidence will grow and soon you'll become an active participant.
Fairview's outpatient occupational therapy can help you or your loved attain independence. To find out how, contact us today.