How Cognitive Rehab Works for Brain and Memory Issues
People with traumatic brain injury, or who have had a stroke, or who have neurological problems may be cognitively impaired. The condition reduces the ability to communicate, independence, and quality of life. It prevents the individual from leading a normal life and can be stressful for family and friends. Cognitive rehab for such people encompasses a range of different therapies designed to improve brain function and independence.
Fairview Rehab And Nursing Home in Queens NY helps many adults and elderly patients with dementia or memory loss. Our professionally trained staff help patients improve their cognitive skills and memory in a caring and safe environment. They do this through various rehab therapies including occupational, speech and physical therapy, as well as psychotherapy and recreation activities.
Let's take a look at what cognitive rehab involves and how it can help. Please note that this is for general guidance only – anyone wanting personal advice should talk to a doctor.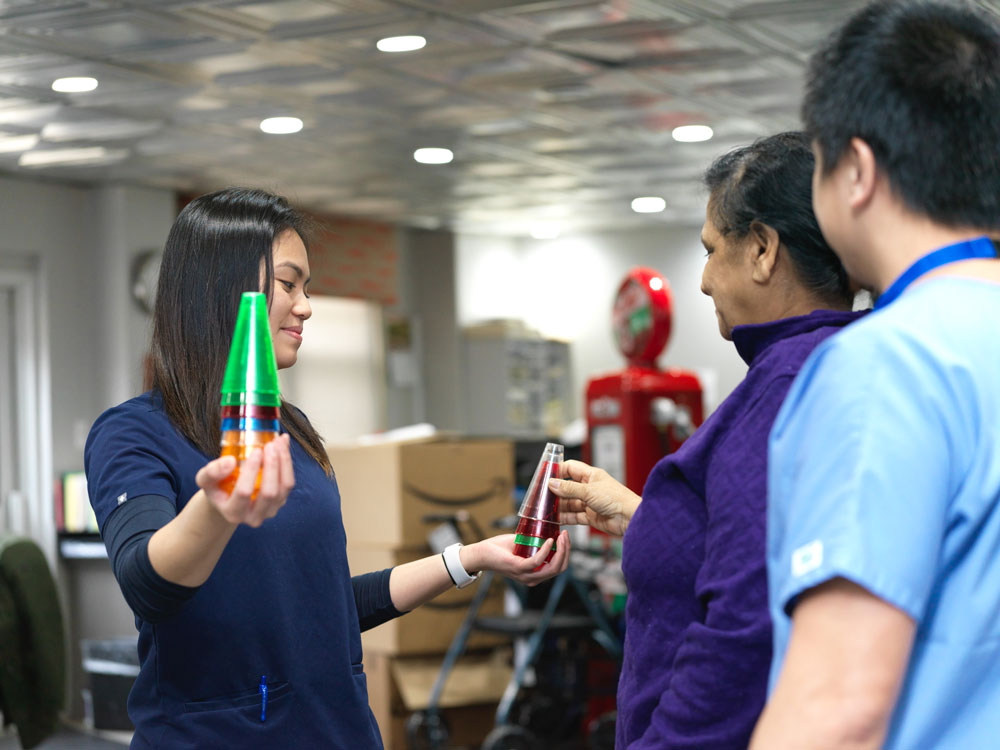 What Is Done In Cognitive Rehab?
Cognitive rehabilitation therapy (CRT) is a broad term and does not refer to a specific treatment. It can take different forms and seeks to address cognitive impairment through various therapies. These may include cognitive behavioral psychotherapy, recreation therapy, as well as the more traditional therapies such as physical therapy. A key aim of CRT is to gently restore damaged brain function through recreation activities and exercises.
What is cognitive exercise therapy?
Cognitive therapy exercises seek to restore previously dormant or impaired parts of the brain to improve everyday functioning. Exercises are designed to improve attention spans as well as verbal, visual and auditory skills. Repetition and practice are important elements of cognitive rehab that have been shown to improve processing speeds.
An important aspect of these exercises is that, to the extent possible, they should be fun, rather than daunting. This requires all the emotional support and interpersonal skills of therapists and carers. Success is greatly facilitated by the overall caring and positive ethos of the institution conducting such therapies.
How long is this rehab?
Cognitive rehab of one kind or another may be appropriate for people suffering from diseases such as Alzheimer's or Parkinson's. Other patients may have a stroke, multiple sclerosis, or a traumatic brain injury. Each case will be different, and the duration of any therapy will depend on the patient's health and doctors' advice.
Where patients have degenerative neurological diseases, cognitive rehab may continue for the rest of a patient's life. A doctor will fine-tune the combination of different therapies to suit the patient's specific circumstances.
Fairview Rehab and Nursing Home encourages a positive and friendly atmosphere – one in which patients are treated as one of the family. We seek to foster a stress-free environment conducive to safe and effective cognitive rehab therapy.
Contact us for more information about our 24/7 nursing care and outpatient and inpatient rehabilitation therapies we offer to our patients. We are here to answer any questions you may have. You can also walk in to see our facilities.