What Can Occupational Therapy Do for Seniors?
Occupational therapy for seniors is a combination of physical exercises and psychological activities that help them relearn daily activities. These daily activities may include basic motor skills such as eating, dressing oneself, or walking. They may also include some mental faculties, such as short-term memory and reasoning skills.
For seniors occupational therapy can help delay the effects of aging on the body. It helps maintain or recuperate some physical and cognitive capabilities.
If you're interested in outpatient or inpatient occupational therapy for a loved one, Fairview Nursing Home and Rehab Center in Queens NY is a great place to start. Contact us today for more information about our occupational therapists and how they can help your elderly loved one regain confidence and self-reliance.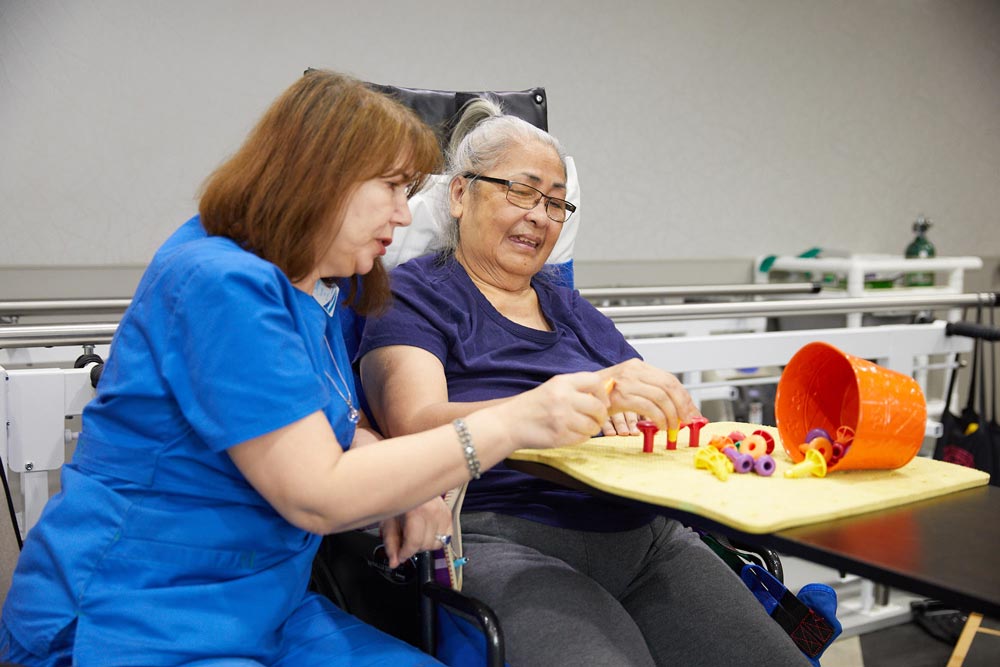 Let's have a look how occupational therapy can help seniors
As we age, our bodies often break down gradually and performing certain daily activities can become more challenging. Therefore, we need to engage in exercises and activities that maintain muscle tone, flexibility, and nerve pathways.
OT is regularly prescribed for patients who have mental or physical disabilities or patients who have had severe physically or mentally debilitating injuries.
Here are some of the many ways that seniors can benefit from regular sessions with a trained occupational therapist:
1. Improves range of motion
For many patients, aging means loss of flexibility and range of motion throughout the body. In occupational therapy sessions it is common for therapist to employ range of motion to help recuperate that movement and reduce any discomfort or stiffness that the patient may be experiencing.
Older patients can certainly benefit from range of motion exercises, as it is common to see muscular dystrophy weakened ligaments and tendons.
These types of OT exercises will be different, according to the needs of the elderly and their particular body.
2. Promotes memory, cognitive skills, and general mental health
As the brain gets older, it can lose brain cells to natural deterioration. For many, this can mean memory loss, "foggy-brain" feelings, forgetfulness, loss of previously sharp mental processes, and even dementia.
Along with this loss of mental faculties, feelings of depression and sadness can come as the individual struggles to execute the daily tasks that used to come so easily to them.
Occupational therapists often help by having elderly patient complete tasks that challenge their memory and cognitive skills, like card games, puzzles, and crosswords. Also, the sessions can be helpful by encouraging the patient to focus on what they CAN do instead of what they can't.
3. Boosts physical health
Apart from certain exercises increasing the patient's range of motion, occupational therapy for seniors can also slow the advancement of arthritis in many patients, prevent falls by improving balance, and encourage seniors to restructure aspects of their lifestyle in order to stay active. With regular sessions, seniors can start to reclaim a feeling of independence and capability.
4. Meeting everyday challenges
Besides the specific physical and mental health benefits that can come from OT, that reclaimed confidence can help seniors to cope with difficulties in everyday life. Occupational therapy for seniors helps give patients the tools to meet challenges with a positive attitude and an eye toward the future.
This article contains informational and educational materials and does not replace health or medical advice. For questions or concerns regarding your medical condition or health objectives, speak to a qualified physician or healthcare provider.