Geraldine Saver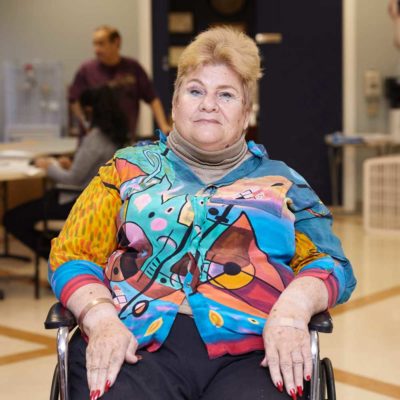 I am in my fourth year here. I had an opening in my back, which took 5 months to heal. And I had a fractured ankle and 2 toes amputated and other conditions. At Fairview, I am having good therapies and I am hoping to walk again.
Physical therapy is very helpful and it strengthens my muscles. I like the exercise machines for legs and arms. They are great. I feel so much better now. I can see the difference. In fact, I was getting to the point when I could not do anything properly and I stayed in bed for so long. My doctor made me to get out of my bed and start moving.
I have wonderful aides – they are just terrific and are like friends really. I have had Martha and Jacki for 2 years, and now I have had Joy for over a year. They have helped me so much. I stayed in a different nursing home before coming here. I liked that one too, but after staying here I did not want to go back. I feel like at home here. It is my home.
I love the animals here too. We have dogs, we have a turtle, a bunny and birds and I like seeing them so much.