Meet our Specialists: Rehabilitation Coordinator Alex Santos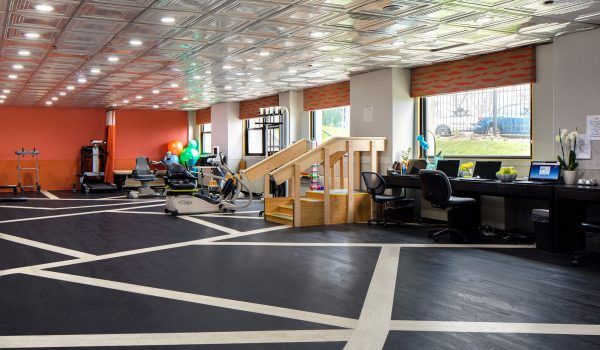 A physical therapist with a Bachelor degree received in 1994 from Santo Tomas University in the Philippines, Alex Santos obtained a Doctorate in Physical Therapy from New York University. He joined Fairview Rehab & Nursing Home in Queens about four years ago. His job involves overseeing the staffing and daily operations of the rehab department. Alex shares his thoughts on the therapies offered at Fairview.
The interview by Twinlight Studios.
What kind of orthopaedic rehabilitation therapies are provided at Fairview?
 This is a 200-bed skilled nursing sub-acute facility where physical, occupational and speech therapies are provided. We offer those therapies immediately on the patient's admission for short-term residence. We evaluate patients to see what their needs will be and provide one to one restorative therapy.
So we examine residents either in the gym or in their rooms. In addition, we collaborate with nursing staff and social services and observe dietary requirements and recreation. This is a multi-disciplinary program. We like to make sure patients are pain-free as far as possible, using the most innovative treatments and state-of-the-art equipment.
Are all the therapies one-to-one?
Yes, all the therapies are one-to-one with the patient. We do not do any group treatments here.
We deal with orthopaedic therapies. Those are for residents with muscular-skeletal conditions like knee and hip replacements, back surgery and patients with broken bones. Our facility actually discharges patients earlier and arranges home-care services for them. We also deal with neurological conditions such as strokes, Parkinson's disease and spinal cord injuries, We can also treat residents with pulmonary therapy and do cardiac rehabilitation. Our therapists are well versed in treating patients with Alzheimer's or dementia.
Who prescribes these therapies?
We all work under the license of a physician. The attending physician will give the orders for the therapies' evaluation. We collaborate with him and discuss treatment plans.
We write progress notes on an electronic medical record that a nurse or physician can access. We also communicate with the multi-disciplinary team during morning meetings, discuss residents' progress and discharge planning.
Then we follow the protocols from day one. We act immediately from day one. The physical and occupational therapists work until 9 or 10 or 11 pm so we can start the evaluation and the treatment on day one. The next day, especially with replacement cases, we communicate with the nurses so pain will not be an issue. We update patients on their progress and give them a tentative discharge date to look forward to.
As soon as they come in, the therapists evaluate them and then educate them regarding falls and safety awareness. We inform the relatives what the patient can and cannot do, about falls and safety awareness and also give them adaptive devices if needed.
Our physical and occupational therapists are very well versed in providing pain management. through their manual techniques, joint manipulation and modalities. We use hot packs and ultra-sound, applying them to the joints on the physician's orders. We can monitor pain relief too.
What about prevention programs?
We have fall prevention techniques. We participate in a lot of quality assurance projects. Elderly people are bound to have falls. So, we try to prevent these falls or prevent them from being endured. We try to avoid the development of tightness and contractures, so that patients' limbs can be free and do not become weaker. We prevent pressure ulcers, making sure the skin is intact. We like patients to stay as mobile as possible.
I heard that you have a bionic legs machine.
This is state of the art equipment, used when a person is weak on their legs and their balance is off. This can be used to aid the patient in walking and can help to accelerate recovery.
Do you give patients massages?
Part of the treatment will be mobilization and massage, if it is needed and if it is prescribed by the doctor. This applies to someone coming in with burns or operations on the shoulders with lymphedema.
Patients who have difficulty in breathing and have respiratory problems can have aromatherapy inside the room by themselves. It can stimulate proper exercises and breathing techniques. Not everyone can have it as some people may be allergic.
Do you provide therapies for seniors with severe conditions?
It depends on how serious it is. We will only touch someone if they have been medically cleared by the doctor. If a patient has multiple fractures, multiple injuries, internal organs are shutting down. once the doctor has cleared him or her, we can start our weight-bearing checks, monitoring vital signs, to see how they can breathe, talk, move their eyes, fingers, or their hands; then hopefully they can sit up and then they can walk.
This article contains informational and educational materials and does not replace health or medical advice. For questions or concerns regarding your medical condition or health objectives, speak to a qualified physician or healthcare provider.